Later this month, SBN will host the Sustainable Business Awards, a showcase of businesses around the country doing great mahi on all things sustainability, from climate change, to circular systems, to social impact.
This year, there are 75 finalists across 10 categories. EECA (the organisation that backs Gen Less) is proud to be sponsoring the Climate Action Leader award, showcasing businesses that are delivering impact and scale on climate action.
This year's finalists are Chia Sisters, Christchurch International Airport, Fletcher Building, Forest Lodge Orchard, and New Zealand Post.
Take a look at the finalists
Chia Sisters
Chia Sisters was started by sisters Chloe and Florence in a garage in Nelson. The company produces natural, nutritious drinks with no caffeine, artificial colours or added sugar. As the name suggests, Chia seeds are a key ingredient in the drinks range, as are hemp, coconut water, and mānuka honey.
Chia Sisters has gained zero carbon and climate positive accreditations, and is a certified B Corp organisation, joining a global network of ethical businesses. Their Nelson juicery is solar-powered, with 32 solar panels on its roof. The company is also committed to paying a living wage and is accredited through Living Wage Aotearoa.
While Chia Sisters has grown by 70% since 2018, they've reduced their emissions by 30% - and the company is 300% more profitable since it set out on the climate leadership journey.
Christchurch International Airport
Christchurch's International Airport is one of the leaders in airport emissions reduction. In 2020 it became the first airport in the world to be awarded the highest standard of Airport Carbon Accreditation. Since then, the airport has run decarbonisation workshops for airports around the world.
As part of its goal to get to net zero emissions by 2050, Christchurch International Airport has a range of initiatives, including switching to electric vehicles, replacing diesel generators, sustainable procurement guidelines, LED lighting, waste minimisation, and internal carbon budgets to drive behavioural change.
The largest carbon reduction project has been replacing diesel-powered generators with ground source heat systems that harness artesian water from the Canterbury plains. Over 12 months, the system has eliminated about 1,000 tonnes of emissions which has reduced its Scope 1 emissions by 87% - a target reached 15 years ahead of schedule.

Fletcher Building
Fletcher Building has more than 30 business units in the construction and building products sector, across Aotearoa New Zealand, Australia and the South Pacific. In 2019, the company became the first construction company in Oceania to set and verify a science-based target to reduce its carbon footprint. Its goal is to reduce emissions by 30% by 2030.
To support that goal, in 2020 the company created a carbon reduction roadmap that features initiatives like using end-of-life tyres as fuel in its cement manufacture at Golden Bay Cement, implementing the country's largest rooftop solar installation, and constructing a new plasterboard plant that will reduce emissions by 10%. The company also has plans to progressively move their construction fleet from diesel to hybrid vehicles.
Fletcher Building are making great progress on their decarbonisation journey. Overall, emissions in the 2020 financial year were 8% lower compared to 2018.
Forest Lodge Orchard
Forest Lodge Orchard in Central Otago is the first large-scale grower/producer in Aotearoa New Zealand to power its operations entirely on electricity.
The orchard has electrified everything, from irrigation systems to frost fighting fans, electric vehicles, tools, and an electric tractor and truck that are on the way. The business hopes to encourage other farmers to switch to electric technology and show that profit and sustainability can go hand in hand.
Alongside the electric equipment, the orchard also has 45 kWh solar production and a battery system that powers day-to-day activities. By using a hybrid system, the solar batteries can be charged when power is cheap. At other times, they export surplus power back to the national grid.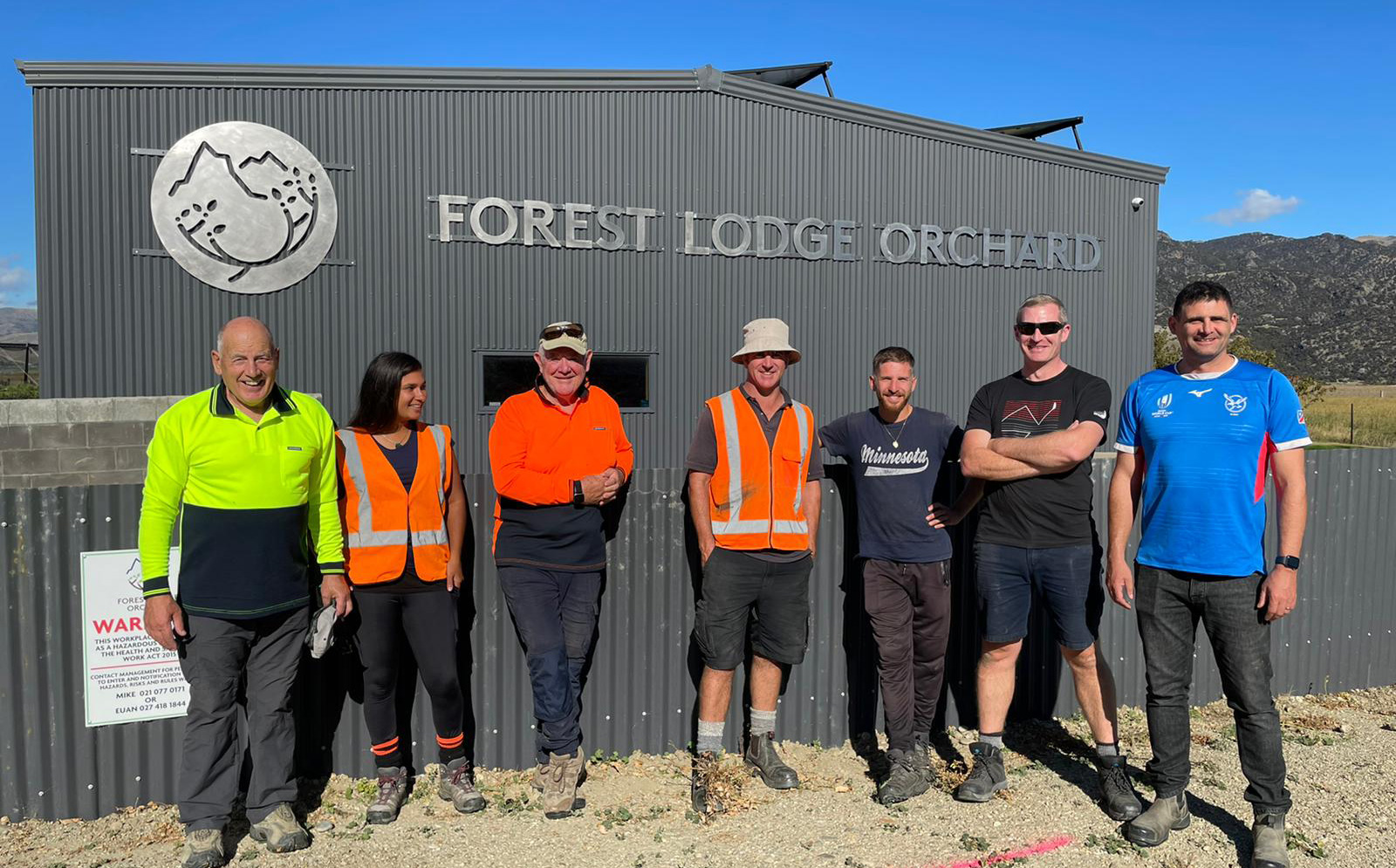 New Zealand Post
New Zealand Post plays a crucial role in connecting New Zealanders with each other, and the world. The company has set a goal to reduce greenhouse gas emissions by 32% by 2030 compared to 2018 – and has a clear plan to both reduce and offset its emissions.
Since April 2021, sending mail and parcels from one person to another has been carbon neutral with NZ Post. The company calculates the carbon emitted on the journey, reduces it where possible, and any unavoidable emissions are offset.
NZ Post has developed a low carbon roadmap to guide its decarbonisation work. Over the next three years it plans to have all of its 900+ vehicles electric, reduce emissions from contractor vans by 25%, and pilot low emission heavy truck solutions.
Learn more about the awards
The Sustainable Business Awards have been running for 19 years and are open to any New Zealand business. They're a great way to show the progress and commitment an organisation has made on sustainability.
This year's winners will be announced at an online ceremony on Thursday, 25 November 2021. The event is open to everyone – you just need to register.