Nina Campbell is a Senior Advisor in EECA's Policy and Engagement team, working across EECA and other government agencies to make sure energy efficiency and renewables programmes respond to their social context and deliver benefits for all New Zealanders – she is our lead on "human-centred energy systems".
As well as being a social scientist, a fluent French speaker, and a mum of two young boys, she's also a keen urban cyclist. For Bike to Work Day 2021, we chatted to Nina about e-bikes, biking to work, and biking in the rain.
When did you start biking?
I started cycling when I was living in France, on the Vélibs in Paris. It's a public bike-sharing system with over ten thousand shared bikes and you can pick one up from bike stations all across the city. It was such an easy way to get around, and because the metro trains stopped at midnight and there was a real shortage of taxis, you often just had to bike. We got hooked on biking, and when my partner and I moved home to Auckland, we brought our own bikes with us.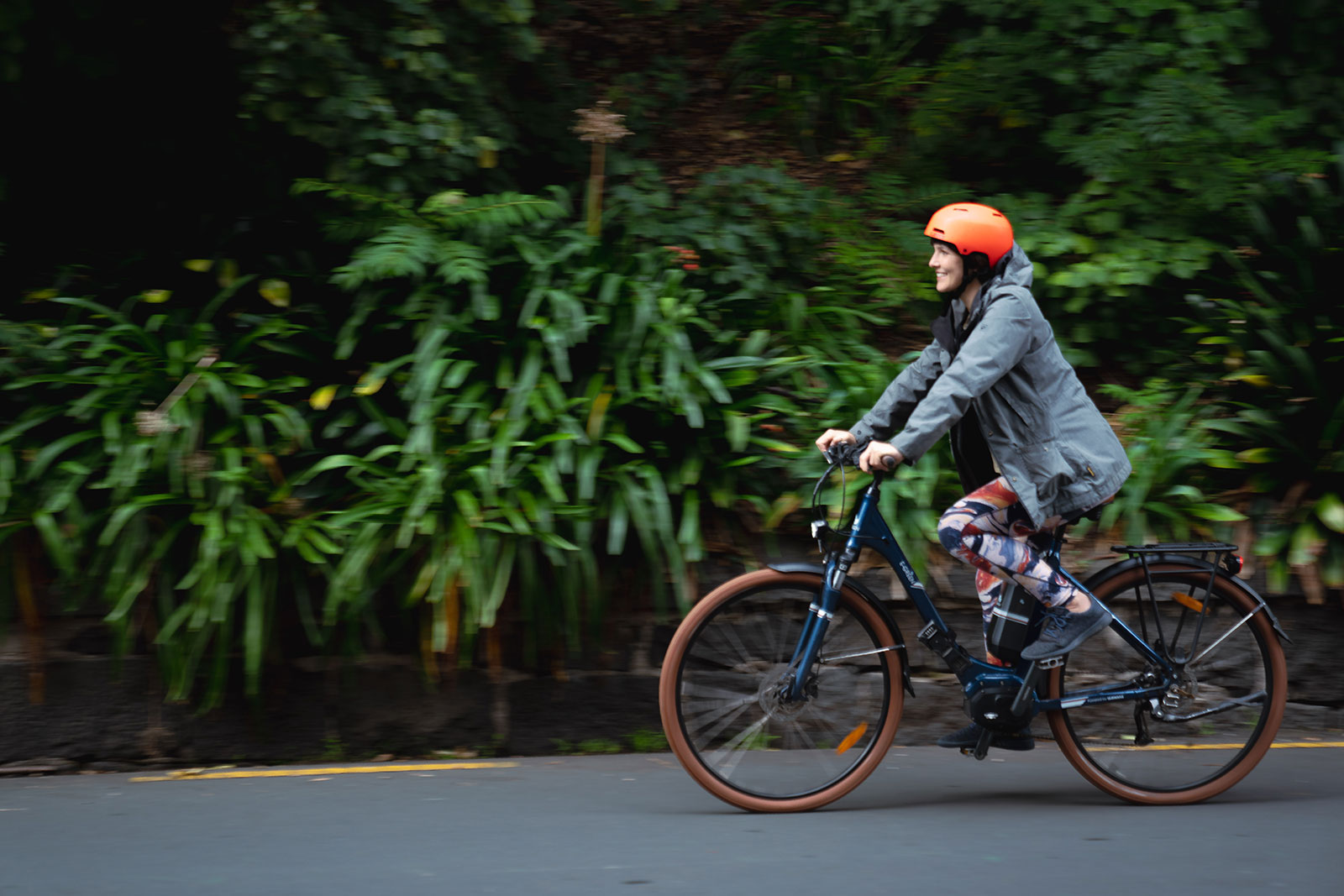 I'd say that's what Gen Less is all about. Taking the things you like, and saying no to the things you don't, like being stuck in traffic.
Why bike to work?
Well, part of the reason is definitely exercise. It's a great way to get a workout in with minimum effort. Another reason would be timesaving. Sitting in a car in traffic, or on the bus, you never know how long it's going to take, and I hate having to factor in extra time for delays. On my bike, the commute is 16 minutes door to door, every day, no matter the traffic or what the weather's doing. Then there's the mental wellbeing - biking to work is a really refreshing way to start the day - with a big dose of New Zealand's gorgeous fresh air and big sky. You get an awesome sense of freedom whizzing past the traffic queues!
Lastly, a huge factor for myself and my partner is living a low-carbon lifestyle. I'd say that's what Gen Less is all about. Taking the things you like, and saying no to the things you don't, like being stuck in traffic. We have one car between us, and we try not to use it too often. We bike everywhere, which is pretty easy because everything we need is in our neighbourhood - supermarkets, parks, cafes & bars, the doctors, everything.
What's your take on biking in Auckland?
When we first moved back to Auckland, we were pleased to see more and more cycle lanes being built to make cycling a safer option here. For the first year, we were using our pedal bikes - it definitely helped that there weren't too many hills where we were living at the time! But when I became pregnant, and the hills became a bit much, I decided to buy an e-Bike. Once our little boy came along, we bought a trailer that attaches to our bikes so we could tow him along too.
Tell us more about towing a child...
Yeah, the trailer is pretty great. It's from a Swedish company called Thule that design really innovative products for an active lifestyle - they even do double trailers. Basically, I latch the trailer to the bike, strap the kids into their belts and helmets, and off we go. If it rains,
there's a little capsule you can pull over so they're in a bubble. They both fit snuggly in the back and they love the ride. They'll even nap in there. Plus, one of the best things about it is that you can take the kids out for the day and when you want to stop, you can unhitch the trailer and turn it into a pram.
How do you find the e-Bike?
I've got a Shimano E-green - and it does the trick. I didn't set out to buy a particular brand, I just went into a normal bike shop and found one that seemed stylish. The kind of e-Bike I've got enables you to still get some serious cardio going if you choose to. There are different levels of assist and the harder you pedal, the faster you go – I like that.
Is there anything about biking you don't like?
I suppose if you're not feeling on top of your game one day, the prospect of the physical effort can be a bit daunting. Or if it's raining, you might sometimes dream of windscreen wipers! But to be honest, even on a rainy day, the same benefits are there - the exercise, the mental boost, the environmental benefits. And I know people think that the rain is a big drawback to biking, but weirdly, I'm not often caught in the rain. For me, this is where the commitment to low-carbon comes in. That's something I feel strongly about, so I just do it. And I often think to myself – I'm doing all these car drivers a favour, by being one less car in their traffic queue!
Any favourite biking spots?
We love going to Waterview Park so the boys can use the bike track, and we often go to Point Chevalier beach or Auckland Zoo. Really, we do our everyday lives on our bikes. I'm not sure I would enjoy living in Auckland so much if I had to battle Auckland traffic every day. One of the best bits about biking is the parking – I mean, it's not even a thing for us. Often if you're driving somewhere in Auckland, you almost don't want to go because you know the hunt for a car park is going to be hectic. But when you jump on the bike with the kids in tow, you can ride right up to the front door and park for free. Pretty cool.