There's been a target on James Logie's back since he started working with AUT in January 2020 as an Energy Efficiency Officer. As part of his placement through the EECA graduate programme, Logie was tasked with helping AUT's sustainability team reduce energy by 2GWh over the course of his two-year placement.
2GWh is the equivalent of powering 286 average New Zealand homes for a year and almost 10 percent of the university's overall energy consumption.
"It was a decent number to aim for but we've done pretty well," says Logie. "We reduced energy consumption by 6GWh in 2020 which was a big win. The Covid lockdowns contributed to energy savings because there were fewer students on campus but the energy efficiency initiatives we worked on and the solutions we developed over the last year will have significant long-term impacts."
Logie studied Energy Science & Technology at the University of Otago and the EECA graduate programme gave him an opportunity to put what he learned into practice.
"I love the problem solving aspect of the job," he says. "You identify a problem and you have to come up with a solution. It's a nice mix of the practical and theoretical. I was thrown in at the deep end but I learnt a lot really quickly and I've immersed myself in a lot of areas."
We reduced energy consumption by 6GWh in 2020 which was a big win.
Saving energy
Figures from AUT show that in 2020, energy efficient initiatives saved the university around $800,000 and 467 tonnes of carbon emissions. About 40 percent of the reduction was due to the Covid lockdowns but the rest was due to operational and efficiency changes.
During the lockdowns, the university shut down many of its buildings to conserve energy and save money. The analysis of energy consumption identified high-energy buildings that were targeted for energy efficiency improvements and management of peak loads. The focus was on low-cost but high-impact energy savings and optimising Building Management Systems (BMS). As part of the process, several buildings went through building tuning reviews to monitor the performance of building services systems and improve energy efficiency.
In 2020, energy efficient initiatives saved
Some of the practical steps included:
Installing time-metered UV lights
Encouraging staff and students to switch off unused lights and equipment
Installing energy meters to monitor building operations
Replacing standard light bulbs with energy-saving LEDs
Upgrading heating, ventilation and air conditioning systems.
Sustainability focus
The energy efficiency savings are part of AUT's sustainability road map, which sets the ambitious goal of reducing the university's greenhouse gas emissions by 50 percent by 2025. The university has been implementing resource reduction initiatives since the late 2000s and has led the way for other universities.
In 2016 AUT became a member of the UN's Sustainable Development Solutions Network. In 2018, the university launched New Zealand's first electric bus (which serves as a shuttle bus between campuses) leading to 80 percent reduction in CO2 emissions per trip, compared to a diesel bus. As well as providing sustainable transport for hundreds of students every day, it also doubles as a mobile research tool, providing vital data to understand the economics and performance of electric buses on New Zealand roads.
The project was supported by EECA's Low Emission Vehicles Contestable Fund (LEVCF) which encourages innovation and investment in low emission vehicles. The bus was built in New Zealand by Kiwi Bus Builders in Tauranga, with electric engines and chassis built in China.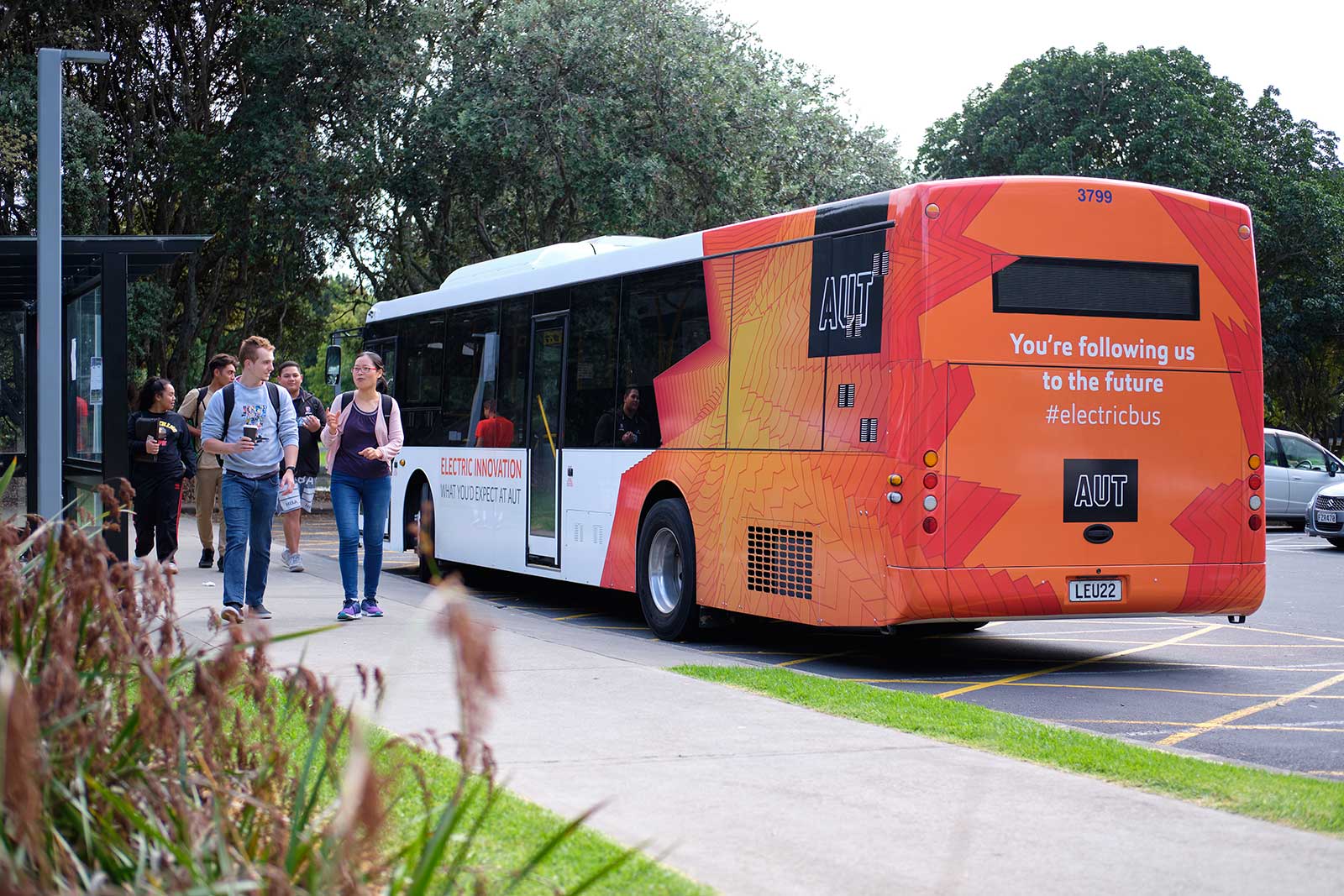 Award winning efforts
AUT won the Revolutionising Energy Award at the 2019 NZI Sustainable Business Network Awards in recognition of its commitment to energy efficiency. The Revolutionising Energy Award is presented to an organisation that is transforming its own energy system or enabling a systemic shift to renewable energy.
The award acknowledged the fact that the reduction of energy consumption, costs and CO2 emissions were major areas of focus for the university. The award submission highlighted the number of buildings designed or modified to include energy efficiency measures, such as enhanced insulation, LED lighting, displacement ventilation and heat pump chillers.
In 2019, AUT's new Engineering and Computer and Mathematical Sciences (ECMS) building, Ngā Wai Hono, won the Education Award at the New Zealand Architecture Awards.
Ngā Wai Hono
"Ngā Wai Hono was built with a strong focus on sustainability and it represents a new way of teaching and learning. The building itself is a teaching tool and students can test the theory they learn in classrooms on the building itself. Rainwater is collected from the roofs for use in labs and solar fins outside ensure there is enough light while excluding heat from the afternoon sun."
"The lighting systems have occupancy sensors so rooms and spaces are only lit when necessary. With the absence of ceiling linings, students are also able to observe how the design of the structural elements and services are interlinked, making the building a 3D learning tool."
- AUT
Last year AUT was rated as one of the lowest energy intensity universities in Australia, New Zealand and Hong Kong according to the TEFMA survey. It also received $1.29 million from EECA's State Sector Decarbonisation (SSD) Fund to upgrade heating and air conditioning systems and install energy efficient lighting in two buildings, one of them a heritage listed building. Energy savings from this $3.2m project will be at least 10 percent in the first year and an estimated total carbon reduction of 44 tonnes.
Find out more about the SSD fund(external link)
Switching on students
Incentives are also being used to change student behaviour. An energy awareness campaign challenged students in AUT accommodation to reduce energy usage by 10 percent by switching off lights, space heaters and electronic devices and taking shorter showers. Students and staff also receive regular reminders to switch off small appliances and shut down PCs completely every day to conserve energy.
"Young people don't really think that much about energy efficiency but they are becoming increasingly aware that changes need to be made," says Logie. "I think students are keen to be involved where they can be but education is key. Educating students about the practical steps we can take to save energy is so important. I like the fact that sustainability is a big focus at AUT and I think the message is getting through."
Find out more about EECA's Graduate Programme(external link)