''If something is broken or causing harm, it's poor design and you can redesign it, better'. Those were the words spoken by a lecturer in Jayden's first design lecture. Those same words have stuck with him and shaped the way he views life – and business.
Jayden started his first company at age 22, selling New Zealand's first compostable coffee capsules. Since then, he's gone on to found For The Better Good, a company that makes bottled water but isn't a bottled water company, and Edible Earth, a platform for teaching New Zealanders how to live more regeneratively.
A better cup of coffee
The idea for compostable coffee capsules started in a student flat in Dunedin, after his flatmate bought a Nespresso machine.
"I was really intrigued by it," says Jayden. "In eight seconds, the product's done its job and then goes to landfill. For the next nine months, I got obsessed with how I could make a capsule that could be composted."
Along the way, he talked to everyone he could. One of those people was the ex-CEO of Nestle, who'd been working on a better capsule and was impressed with what Jayden had done.
"I got the rights to distribute his capsules and started the company two weeks before my graduation ceremony. This was eight years ago — no one was talking about plastic or its problems back then. Once I realised we could do a coffee capsule better, I started looking at everything and asking myself why we weren't doing those things better."
Not another bottled water company
There's a joke in the marketing world that you'd never start a bottled water company — there are just so many of them. But when Jayden first got the idea to design a better water bottle, it wasn't about starting a bottled water company, it was about starting a conversation.
"I got to thinking about water bottles, which are the pinnacle of plastic waste," says Jayden. "It was the perfect billboard for us to talk about the need to stop using fossil fuels in products – that we should be reusing things, and designing products to return to the earth when we're done."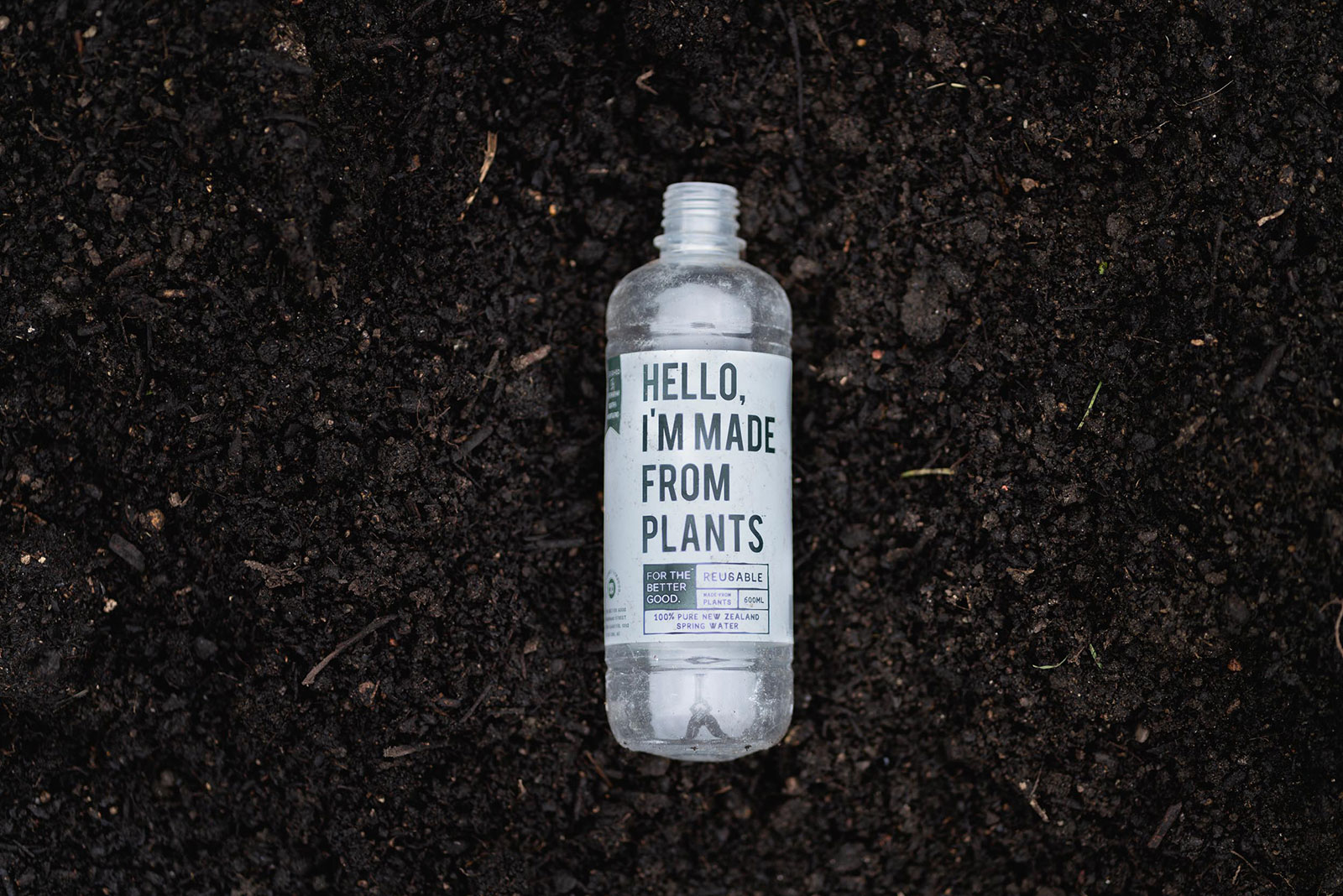 Jayden founded For The Better Good in 2016. There were three years of research and development involved, including experimentation with different materials. But at the start of 2018, he finally got a bottle produced.
Some of the product's benefits include:
bottle and label made from naturally occurring vegetable starch
78% smaller carbon footprint in production compared to traditional plastic bottles
bottles are reusable, not single-use
a lid that's currently recyclable, but a new compostable lid will be available soon
bottles are commercially compostable at the end of their useful life.
"Consumers now know the problem with plastic and they care about the planet," says Jayden. "If you do the right thing, they'll support you. I think there's actually a huge opportunity for businesses that commit to doing something better, and we've shown that to some degree."
The best thing about composting being the 'end of life' for our bottles is that no energy is used, and no fossil fuels are required to break it down.
The power of composting
When For The Better Good started, it was hard to find places that would accept compostable packaging so the company built their own composting sites and enlisted their retailers to be Better Bottle return partners. Now, the company has about 150 collection points around New Zealand, as well as multiple composting sites.
"Waste is a resource when it's used properly, and it should be managed as locally as possible, Otherwise, the carbon emissions from travel defeats the purpose. We started our collection points so we could take responsibility for our product and make sure bottles were being composted.
"The best thing about composting being the 'end of life' for our bottles is that no energy is used, and no fossil fuels are required to break it down. It's completely natural and is working 'with' nature, not against it."
Edible Earth
One of the composting sites is an old bowling green in Porirua that's been transformed into an urban farm in partnership with local charity WELLfed. Here, composted bottles and food waste are used to grow food in an organic and regenerative way, whilst educating the local community on how it all works. In the first year of operation, the site diverted a whopping 40,000kg of food waste from landfill.
"One of the amazing things for me is creating connections between people in urban areas and their food," says Jayden. "We had school kids come to help us build the farm and when we asked where apples come from, they said 'Pak'n'Save'. These kids now come to the farm regularly and learn about composting and growing food."
The urban farm and composting sites are part of Edible Earth, the company that Jayden and team started after lockdown last year. Edible Earth also has a website with information, advice, and guides on home composting and growing food.
"Edible Earth is about turning under-utilised land into edible earth and teaching people how to do that at home. Biodiversity, soil regeneration, and feeding people healthy food is so important to our current climate situation. Just look at the bowling green – it's now teaching people, feeding people, connecting communities and diverting waste from landfill."
A year on from the Impact Awards
Winning the Climate Action award at the Impact Awards 2020 was a big moment for Jayden and For The Better Good. It put the company into the spotlight and gave them an opportunity to share what they're doing. Since the awards, For The Better Good has partnered with companies like Whittaker's, Wellington Airport, Batchwell, Chia Sisters, and Six Barrel Soda, which is helping to amplify their message.
Being at the awards was also a powerful experience for Jayden personally.
"Because I've got my head so focussed on what we're trying to do, I don't always see everything that's going on. Being at the awards and seeing other New Zealanders doing amazing things, it's pretty inspirational. It's great to know there are other people out there doing things in a better way than how we've always done them."
EECA is proud to sponsor the 2021 Impact award for Climate which celebrates New Zealanders who are taking action to help reduce carbon emissions and support the transition to a more resilient, low carbon future.
More information
Check out the 2021 Impact Awards finalists(external link)
Find out more about For The Better Good(external link)
Keep reading
Article

Lake Hawea Station in Otago, run by Justine and Geoff Ross, is Australasia's first certified carbon positive farm.

Farming
Working Gen Less
Sustainable products

10 March 2022

Article

ecostore is reducing its carbon emissions and cutting down on single-use plastics through its bottle refill and plastic return programmes.

Low carbon choices
Working Gen Less
Sustainable products

1 March 2022

Article

From humble beginnings in his parents' garage, Tony Small has built Innocent Packaging into a successful plant-based packaging company - taking on the industry with innovative sustainability solutions, compostable packaging and paper products.

Low carbon choices
Innovation
Working Gen Less
Sustainable products

12 May 2021