ecostore has been around for almost thirty years, founded in Northland in 1993 by Malcolm and Melanie Rands. Today, ecostore is led by Pablo Kraus, and the company's cleaning, laundry, body care, skin care, and baby care products can be found in homes across Aotearoa.
"We take a holistic approach to everything we do," says Kraus. "Our purpose of improving the health of people and planet is lived in every moment, of every day, for all employees. By walking the talk, we set an example for all brands to put sustainable principles at the core of their operations."
It's about more than just plastic waste
In 2014, ecostore made the decision to switch their packaging to a plastic made from sugarcane, which has a lower carbon footprint because it's not made using fossil fuels. The sugarcane bottles are 100% recyclable through standard kerbside collection.
"Since we made the switch, we've saved more than 5,000 tonnes of carbon from being released into the air," says Kraus. "That's because the bottles are made from sugarcane, which is a renewable, sustainable alternative to petroleum-based plastic that captures CO2 from the atmosphere as it grows."
Image: Pablo Kraus, Managing Director at ecostore
From there, ecostore launched their bottle refill programme as a way to cut down on single-use bottles. Through the programme, people can take their empty bottles and fill them up with ecostore products at over 100 refill stations across New Zealand.
Kraus says that in a single year, New Zealanders refilled bottles with more than 30,000 litres of ecostore products. In 2018, the stations saved 276,466 500ml bottles that would otherwise have been produced, creating emissions and using energy in the process. The company has a plan for 140% growth in its refill stations over five years.
The programme isn't just available in New Zealand — it's gone global. There are now 200 refill stations worldwide, with most in New Zealand, but others in places like Brunei, Vanuatu, Tokyo, and Taiwan.
A circular solution
'Planet before profit' is at the heart of ecostore's philosophy, but they recognise that their sugarcane bottles are still part of the problem, even if they are made with a more sustainable alternative. Over a year, the company worked to develop a solution to the bottle problem — the plastic return programme.
Through the programme, people can return their empty ecostore bottles and those bottles will be collected, processed, and re-made here in Aotearoa. The programme was trialled in 2019 alongside nine schools with great success, and was officially launched in August 2020. It's the first closed-loop returns programme for packaging in New Zealand.
"Every bottle that is returned through our plastic return programme is one less bottle the country's recycling plants need to deal with, with the potential to take millions of bottles out of the system in the near-term alone," says Kraus. "As we roll out more packaging using materials returned through the programme, this will reduce the kilometres travelled by our plastic raw material, further reducing our CO2 emissions."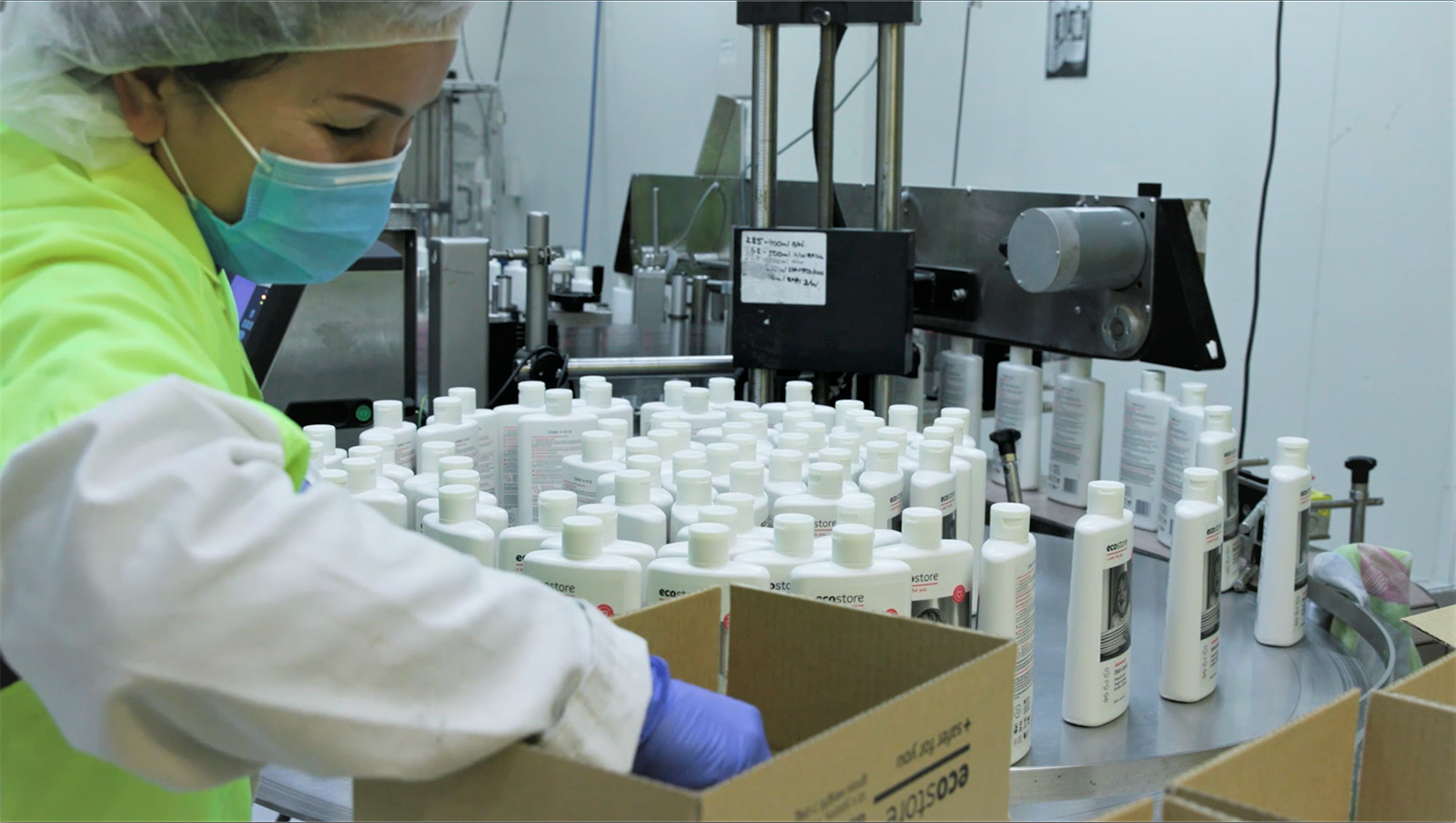 The programme got support from the Ministry for the Environment's Waste Minimisation Fund, and is a collaboration with New Zealand Post, Astron, and more than 100 specialty grocery stores and schools(external link), which are the collection points for people to drop off their bottles.
In its first year, the plastic return programme collected 4,600kg of plastic, which is equivalent to around 83,600 500ml dishwash liquid bottles. 72% of the plastic has already been recycled into new bottles — and the remaining 28% will be sorted, cleaned and reground.
"Our programme is a starting point, but the aim is to create a system that can be scaled across many businesses. With the impacts of climate change being felt around the world, corporates need to truly lead and collaborate on innovative new programmes."
Taking care of their own business
In their own operations, ecostore is a member of the Climate Leaders Coalition. Ecotech, their Auckland-based factory, has been certified carboNZero since 2010 through Toitu. The carboNZero certification involves measuring and reporting on greenhouse gas emissions, including emissions from electricity, fuel, freight, packaging, and company vehicles.
In 2019, ecostore expanded their carboNZero certification to cover the entire organisation, including their flagship store and head office.
Some of their initiatives include:
An Emission Reduction Management Plan (ERMP) that will drive year-on-year emissions reductions (they're currently in year 2 of 3 in the reporting and measurement cycle)
Switching from fluorescent lights to LED lights, as well as ongoing monitoring of usage, and turning off unnecessary lighting
Reducing their solid waste volume (in kgs) by 5% from 2020-2025
A new high-speed filling machine for household packing that has increased energy efficiency, completed in November 2020
Replacing their boiler and air compressor with alternatives that use less power, completed around 5 years ago
Working with suppliers to help them reduce their greenhouse gas emissions
Joining with other organisations to drive change, like the Ellen MacArthur Foundation, Climate Leaders Coalition, and Plastic Packaging Commitment.
"Climate change and plastic pollution are two of the biggest challenges we face in the 21st century," says Kraus. "At ecostore we tackle this holistically through our operations, how we choose our partners, how we source our materials, and what we do about the lifecycle of our products. We believe it is possible to act with integrity while achieving business success."
Related stories
Article

If you and your family love exchanging gifts, you can keep the joy and have a more sustainable Christmas.

Low carbon choices
Living Gen Less

25 November 2022

Article

Method Recycling, Sudima Hotels and Ziptrek Ecotours share their sustainability journeys, and advice for other businesses looking to cut their emissions. Watch their videos.

Innovation
Emission reduction
Working Gen Less

24 November 2022

Article

Lake Hawea Station in Otago, run by Justine and Geoff Ross, is Australasia's first certified carbon positive farm.

Farming
Working Gen Less
Sustainable products

10 March 2022