Haris had been in his role as Energy Management Advisor at Alsco for two and a bit months before the country got locked down in March 2020. That made it a rather hectic start to the job.
As an essential service provider, Alsco provides commercial laundry services to businesses across the country. All their plants needed to be operational and their fleet of vehicles were on the road getting fresh uniform, linen, sheets, tea towels to customers.
As Haris says, "Alsco is a laundry provider, but we've also got a massive transportation network."
The company has eight processing plants and 15 distribution centres branches across the country, and over 30,000 New Zealand businesses use their services – which include uniform, linen, floor care, first aid, and hygiene. Each branch has complex and high-use equipment that's used for tasks like washing, drying, steaming, and ironing, to name just a few.
Life of an energy grad
While he was studying his electrical engineering degree, Haris had been working part-time as a service administrator at Alsco, based out of the Auckland branch in Kingsland. That meant he knew the business and its day-to-day operations well, which comes in handy. Now in his role as energy graduate, he's based out in Ellerslie at the Head Office.
"The graduate program has provided unparalleled learning opportunities for us. It has instilled a greater level of understanding around energy and carbon data, while further refining our focus and widening the scope for sustainability initiatives." — Steve Barden, Alsco Group General Manager
"There's two parts to the energy grad role," says Haris. "First, there's the data – looking at energy consumption at a branch, how energy is being used, the baseline data. The second part is project management – looking at the feasibility of projects, the opportunity, the business case, and the numbers."
Haris takes care of all of that, including investigating opportunities to reduce energy consumption, working with engineers and suppliers to get equipment installed, and doing the analysis that follows. That part of the role is really important – making data projections at the start of a project, and then looking at the post-implementation data to work out the impact of a project.
Full steam ahead
As an energy graduate through the EECA programme, Haris is tasked with saving 2gWH of energy over two years, which is approximately 3% of Alsco's energy usage and the equivalent of powering 18,000 electric vehicles. He's already saved 1.3gWH and is on track to exceed the target.
Some of the projects he's been working on include changes to Alsco's steam-heated ironers which starch their fabrics at branches nationwide. Steam isolation and control units are being installed to cut off steam supply when the ironers aren't being used, meaning better efficiency and saving up to 80% of steam being wasted.
Haris also discovered that there were excessive steam leakages happening at laundry processing plants around the country, which were causing energy and process inefficiencies. By replacing the steam traps and caps that were leaking, Haris managed to save 59% of his 2GWH target.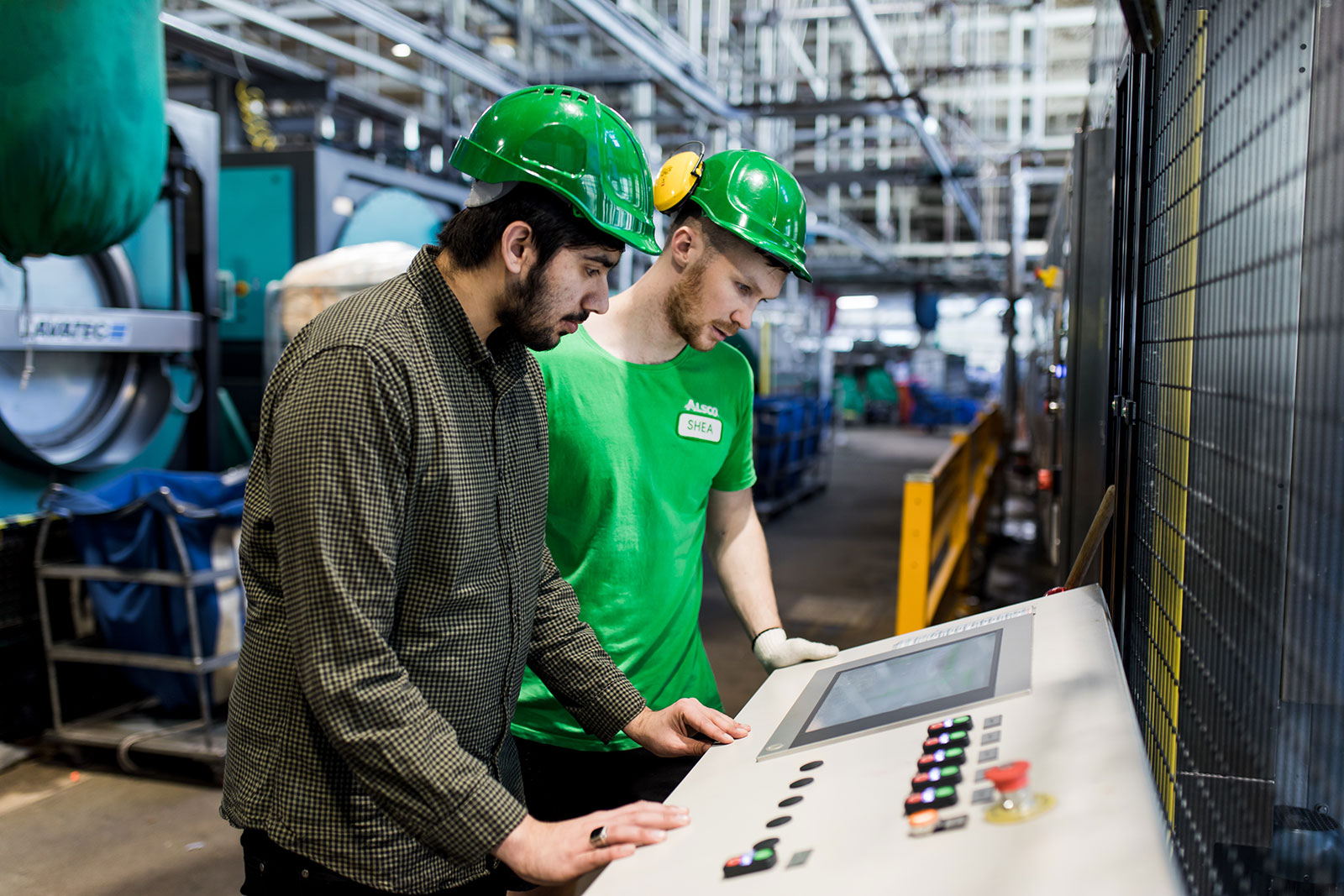 Another project is focused on Invercargill, where Alsco is working to transition away from coal. Alsco engaged Ahika Consulting to run a woodchip boiler trial which was successful. From there, the company will run a full-day trial of the woodchip boiler while the factory is at full capacity. Haris is assisting with that project, working with head engineer Graham Notman who is leading the work. The coal used in Invercargill makes up 22% of the company's carbon footprint, so this work is key in providing a pathway away from coal and significantly reducing emissions.
"This role is really dynamic and there are new projects all the time," says Haris. "One of the great things about the role is I get to work around the country. Richmond is on wood pellets and it's our cleanest branch. Invercargill is next in line to get biomass. In the past a lot of these projects were one-offs, but now they fit into a roadmap which is so important as we move towards net zero."
Sustainability at Alsco isn't just about energy and numbers, it's also about the community outreach we do and about looking after our team.
Sustainability and people
Alsco as a company has a real focus on sustainability and for Haris, one of the highlights in the role is getting involved in that.
"I had the opportunity to develop Alsco's sustainability report for 2021, which was an amazing experience. Sustainability at Alsco isn't just about energy and numbers, it's also about the community outreach we do and about looking after our team. The report really shows how far we've come in the past few years."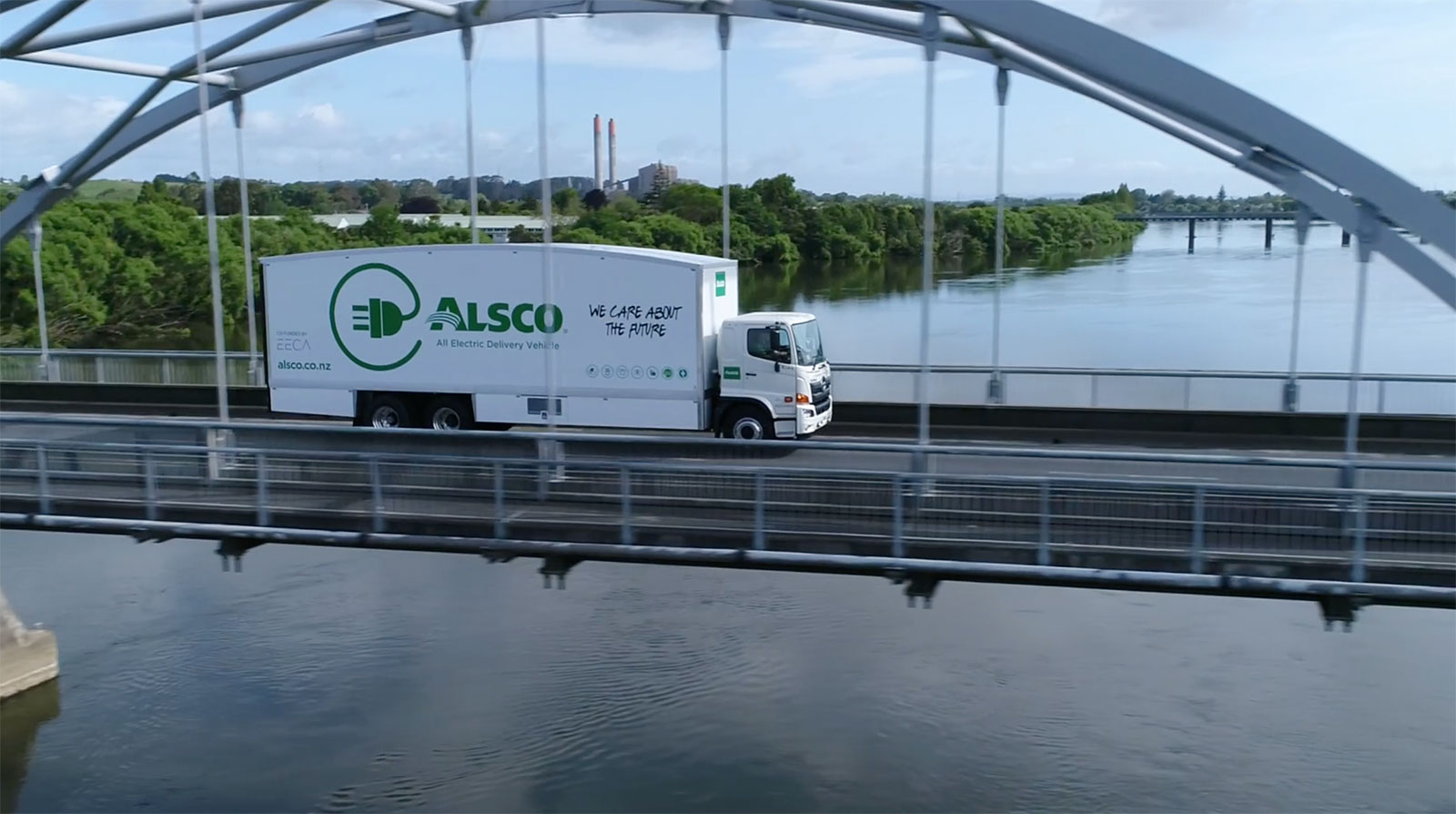 Some of their sustainability initiatives include:
17 planting days where over 500 Alsco volunteers have planted 10,000 native trees through the Million Metres Streams Project
Partnering in the Textile Reuse Program to develop alternative solutions for textiles at the end of their rental life
Investing in a long-haul electric freighter that saves 250kg of carbon emissions per day, and 3 electric vans
Donating 300 cartons of bedding, towels and First Aid Kits to more than 70 charitable causes through their Ambassador Donations programme
The Alsco Management Development Program (MDP), a two-year programme that equips participants with leadership and management skills.
"The company looks after its people," says Haris. "I've had the opportunity to work with our senior management team here at Alsco to deliver projects and have a meaningful impact on the world through my work. The grad programme has given me real insight into the industry, enhanced my energy management expertise, and given me a support network within EECA and Alsco to develop."