The transition away from fossil fuel vehicles towards electric, public, and active transport is growing around the world, and it's often businesses at the forefront of change. Sometimes the approach that's taken is top-down with senior leaders promoting the shift, other times it is grassroots and led by employees who are passionate about sustainable transport – often it's a combination of the two.
Leading the way
Fisher & Paykel Healthcare is one of the leading technology and healthcare companies in New Zealand. Its head office is based in East Auckland, with more than 4,000 staff on site.
Like a lot of businesses, being located further away from major transport hubs can make it more difficult for staff to walk, cycle, or bus to work, and many of the team commute by private car.
Influencing change
With healthcare at the core of the company's operations, it makes sense for Fisher & Paykel Healthcare to encourage its staff to drive electric vehicles since they reduce air pollution, and also emissions. As a certified 'carbon reduce' organisation through Toitū, the company is committed to reducing its own emissions as well.
Over the past few years, the sustainability team at Fisher & Paykel Healthcare has fostered a Green Team of sustainability champions embedded throughout the organisation – a simple set-up that many businesses could adopt to drive change. One of the Green Team's sub-groups is the Sustainable Transport team, which encourages employees to drive electric, ride bikes, e-bikes, or e-scooters, take public transport, and carpool.
Early growth
Geoff Bold, Senior Clinical Research Scientist and EV champion, has been involved in the EV initiatives at Fisher & Paykel Healthcare since the beginning.
Back in 2016, there were only four EV drivers on site (and only around 1,500 in the whole of New Zealand) and most of those EVs had a reasonably low range of around 100km. Instead of people finding standard plug sockets to charge up at work for the commute home, Geoff and some colleagues proposed installing a few charging stations.
Initially, Fisher & Paykel Healthcare installed four slow EV charging stations as a pilot project to encourage staff to drive EVs – a 'build it and they will come' approach. By October 2018, there were 35 EV drivers regularly using the four charging stations, in three 'shifts' across the day.
Stepping up a gear
Between late 2018 and early 2019, Fisher & Paykel Healthcare installed an additional 45 slow charging stations and a medium speed DC charger with the support of co-funding through EECA. That meant considering a range of factors, including where they would be located, the power supply that would be needed, and making sure there was space for EV growth in the future.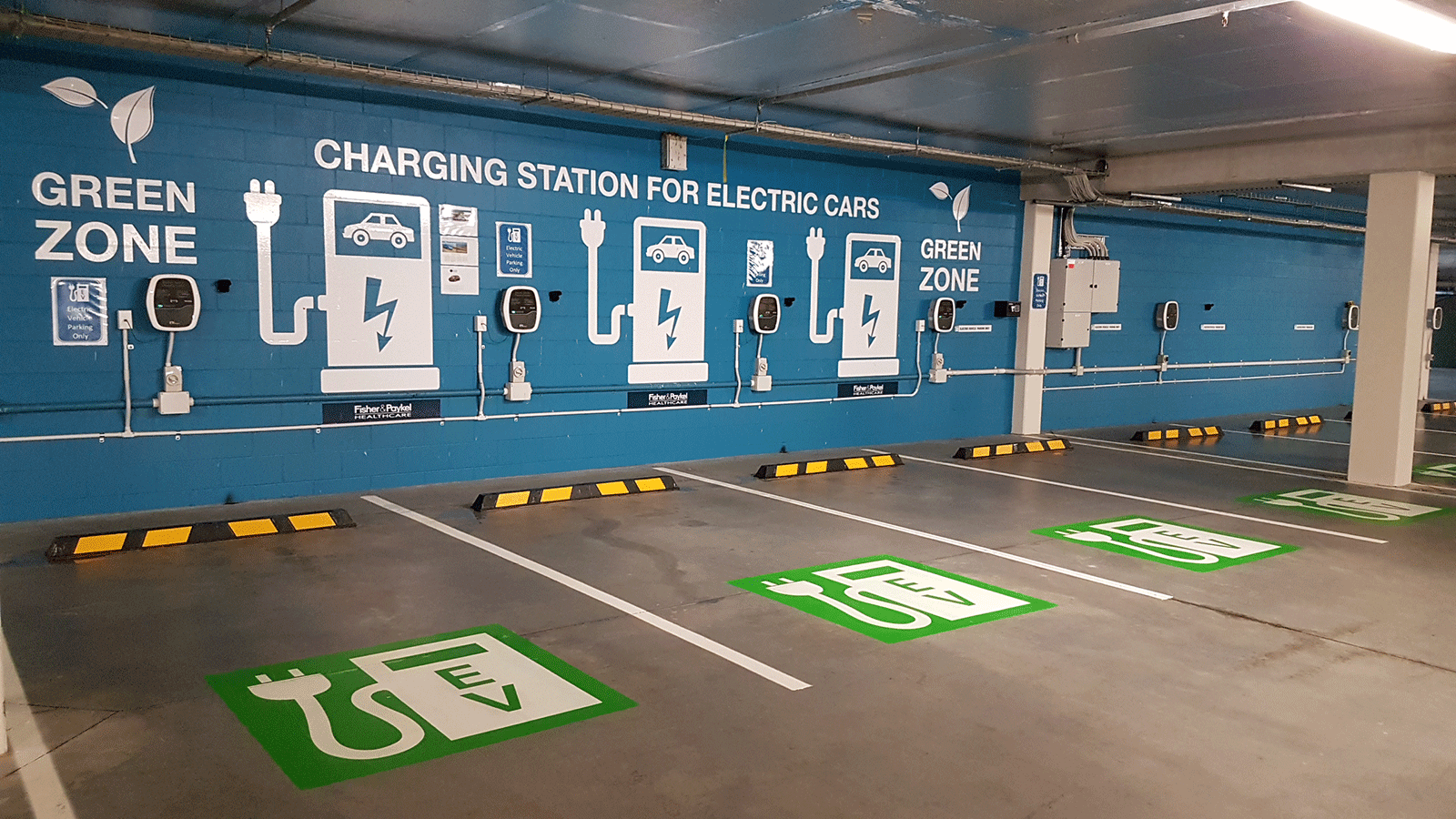 Ultimately, charging stations were installed at each of the three buildings on site – 16 outdoors, 29 undercover, and the DC charger at reception to be used by both visitors and employees. Fisher & Paykel Healthcare painted the carpark spaces to show which were designated for EVs, with plenty of additional spaces for future expansion.
The equipment they chose was supplied by YHI - Delta AC mini charging stations - which had load management support to help manage power consumption, and a Delta Wallbox 25kW DC charger. Where there was once an honesty box with a gold coin donation policy, the new system was run through ChargeNet, who manage the billing at a small fee for employees.
When a new building opened in mid-2020, 10 charging stations servicing 20 carpark spaces had already been factored in without any prompting, a sign that EV infrastructure had become standard practice.
There are now around 135 EV drivers at Fisher & Paykel Healthcare. Geoff says people used to come to him to let him know they had an EV, but with the growth, new cars are appearing all the time.
Cost and convenience
While the upfront cost of an EV can be higher than a petrol or diesel car, the running and maintenance costs are lower, particularly over longer distances.
For employees driving around 15,000 km per year, Geoff worked out that at the current price of around $3 per litre of petrol, the annual fuel savings are around $4,000. Many of the EVs are being driven by people with longer commutes, up to 100 km round trip – for those people, the savings are closer to $6,500 annually or $32,500 over five years.
Some EV drivers use the charging stations for a quick top-up, while others charge their cars up fully. With most employees on site for eight hours, that's plenty of time to get a decent charge.
Being able to charge up at work and leave with a 'full tank' is a real benefit for people, particularly for those with lower range vehicles.
Fisher & Paykel Healthcare has a good relationship with its power provider and employees get access to electricity 'at cost' when charging at work, which for many is a better deal with what they pay at home.
Going beyond EVs
Investing in EV infrastructure is just one part of the equation – and at Fisher & Paykel Healthcare, it's supported by increasing awareness of both the problem and better solutions.
Once a year, the Sustainable Transport Green Team holds a sustainable transport showcase, bringing in external companies to showcase new or innovative products that normalise climate-friendly transport. There's usually one top-of-the-range EV to attract attention, as well as a range of more affordable EVs, e-bikes, bikes, e-skateboards, e-scooters, e-motorbikes and e-mopeds. To seal the deal, there's almost always free ice blocks or plant-based sausages or burgers.
The company provides covered bike and scooter racks, lockers, showers, bike stands for maintenance and tyre pumps to make it easier for employees to choose active transport. The Sustainable Transport Green Team, which includes an enthusiastic group of cycling advocates, rally around the Aotearoa Bike Challenge each year, hosting lunchtime events to encourage people to give it a go. Steve Thornborough, Senior Product Development Engineer, has also created a 'ride together' map to connect new or less confident cyclists with regular bike commuters so they can cycle together to work.
Carpooling is another transport option Fisher & Paykel Healthcare facilitates for employees by providing dedicated carpool parking spaces, complementing a carpooling app developed by Adam Tebbutt, Product Development Manager, which now has 163 registered users. With around 4,000 people on site, many travelling in similar directions at similar times, the app connects people who live near each other and reduces the number of cars travelling to work. The company also provides dedicated parking spaces for staff who drive hybrid vehicles.
Encouraging cleaner, low-emission transport options is something that a lot of businesses could do, and the benefits are significant. For employees, it means less stress on the commute, lower fuel costs, reduced emissions, and even new connections. For businesses, it's often a low-cost way to take climate action – and with consumers more conscious than ever of their purchasing choices, it can bring a competitive advantage too.
Related articles
Article

Take advantage of the Clean Car Discount, which is being extended from April 1.

25 March 2022

Article

It's becoming more and more common for companies to ditch the car, as businesses see an opportunity for lower overheads, greater efficiency, and meaningful climate action.

12 May 2021

Article

More people in business now realise a low carbon footprint gives a competitive edge. But how do you set about achieving it in a meaningful way – and how much hassle is it?

Emission reduction
Working Gen Less

4 December 2020