Surveys show that the main reasons people use car sharing services are cost, convenience, and environmental benefits. People who use them also drive less and use active and public transport more. This means less congestion, less road trauma, and less vehicle emissions.
Global research indicates round-trip car share cars can replace up to 15 privately owned vehicles. In New Zealand, there are a few companies in the car sharing game — Zilch, Mevo, and Cityhop to name a few. Together, these businesses are changing the way Kiwis think about car sharing and car ownership.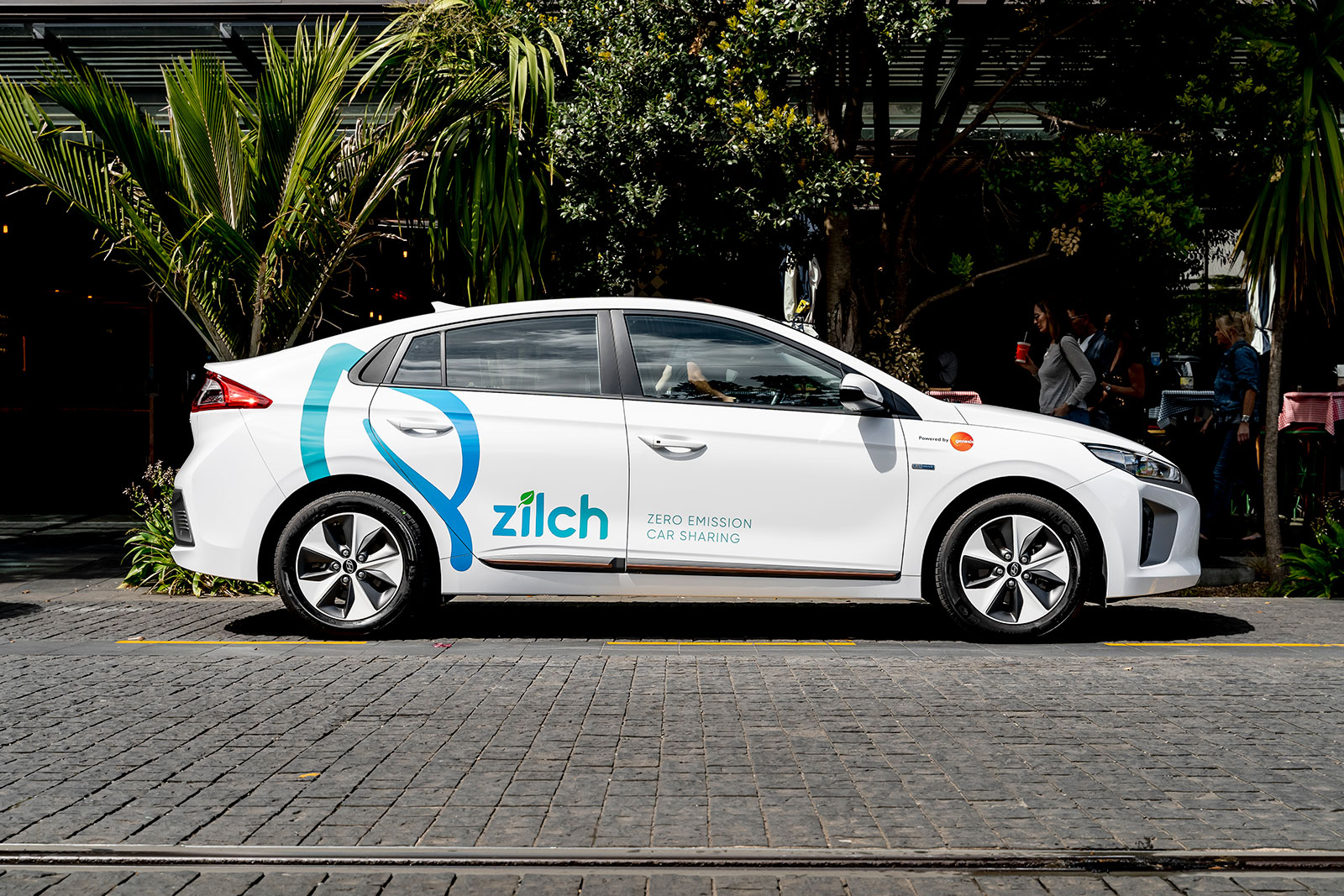 100% pure electric car sharing
Zilch (previously Yoogo Share) is committed to building a zero-emission car sharing service, including electric vehicle (EV) charging infrastructure with their public car sharing service in Christchurch and Auckland. Their mission is "to help businesses and everyday Kiwis to transition to sustainable mobility." Their vision is "Fewer cars. Lower emissions. Healthier, happier, more productive cities."
As New Zealand's only pure electric car sharing business, they're ahead of the game when it comes to sustainable, eco-friendly transport. "Interest in EVs is starting to take off," says Kirsten Corson, Co-Founder and Executive Director of Zilch. "Car sharing internationally is thriving, but it's still in its infancy here. Being able to offer pure electric cars provides additional interest in sharing."
Co-funding through EECA's Low Emission Vehicles Contestable Fund(external link) has supported Zilch's deployment of EVs and charging infrastructure in both Auckland and Christchurch. The Christchurch Agency for Energy Trust was a foundation funding supporter for the service, providing a grant towards the electrical and charging infrastructure for the Christchurch hub roll-out.
Customers use Zilch's public car sharing instead of having a pool-car fleet, instead of taxis for airport transfers, for general trips throughout the day or night, and to commute to and from work.
Zilch also offers EVs on a monthly rate to business customers along with supporting them to install charging infrastructure. Staff can book these EVs for business or private trips with a percentage of the private revenue being rebated back to the business. This allows businesses to introduce EVs in a cost neutral way.
Zilch has a track record of innovating in the zero-emission space and their partnership with Christchurch City Council is a model for how car sharing can impact the way a city moves its people sustainably.
Fewer cars. Lower emissions. Healthier, happier, more productive cities.
Christchurch 100% electric car sharing
In 2016, Christchurch City Council initiated, researched and developed a battery electric car sharing scheme for businesses and residents and worked with Christchurch businesses to go to market for a service. Yoogo Share (now Zilch) was chosen to provide the service, which was launched in 2018. Christchurch City Council then sold the majority of its staff pool cars and switched to using a pure electric car sharing model. Zilch battery electric cars are located at hubs at the Airport, Lyttleton, Fendalton, Papanui, and at three sites in the CBD.
Since the service launched in February 2018, over 5,000 Christchurch businesses and residents have accessed Zilch EVs for over 85,000 trips, saving over 300 tonnes of greenhouse gas emissions for the city.
Christchurch City Council had some key drivers for implementing a zero exhaust emission car sharing scheme for Christchurch, says Christchurch City Council's Resource Efficiency Manager, Kevin Crutchley.
"Council wanted to create a zero exhaust emission car sharing scheme for Christchurch businesses and the public that would both reduce our city's greenhouse gas emissions and improve air quality, which would have positive health benefits for the residents of Christchurch.
Some of the other reasons for implementing the scheme included helping to reduce the capital cost barrier of battery electric vehicles and charging infrastructure to make battery electric vehicles more affordable and accessible for businesses and the public through the car sharing scheme."
"We wanted to provide an opportunity for more Christchurch residents and businesses to drive a battery electric vehicle and to experience those benefits, and to overcome some of the myths about battery electric vehicles. The result is an exciting new transport service with zero exhaust emissions and is powered by electricity that is largely generated from renewable energy."
Corson says that the partnership means that Zilch looks after the EVs, and the Council was able to reduce their fleet size dramatically. Also the shared model means car use is optimised for residents and businesses because they're not parked up for most of the day."
Corson tells the story of an employee from Christchurch City Council who gave the car sharing scheme a go when he got a quote for a service on his V6 Holden.
"This guy told me he didn't want to pay the money to get it fixed so he jumped in a Zilch EV car instead. He told me: 'I'm the last person I ever thought would drive an EV. It's just not me. But when I did all the numbers and worked out what my car was costing me, I realised that car sharing was a much better option for me.'"
"I love hearing those stories," says Corson. "Change isn't easy and it requires really strong leadership, and Christchurch City Council have delivered that in spades. They were such early adopters and now the city is reaping the rewards. I'd love to see other leaders in New Zealand be as bold."
How can you try it out?
There are plenty of ways to get behind the wheel of a shared car or an EV yourself – without having to own it. Car sharing businesses operate in many areas across New Zealand, including Auckland, Hamilton, Wellington, Christchurch, Queenstown, and Dunedin.
If you want the car for a bit longer, a number of car rental companies offer EVs, including Snap Rentals, Go Rentals, Europcar, and Blue Cars. If you're looking for a more fixed set-up, Edrive and Turners let you hire an EV on a subscription model for a set period of time. And if you want to head off on holiday, you can rent an electric campervan through Britz or Jucy. There are so many ways to make the most of car sharing – and even better if it's pure electric.