Taking public transport more often is something we can all do to help reduce greenhouse gas emissions and have a positive impact on the climate.
Catching a bus or train is already more climate-friendly than driving, but if your trip is on an electric bus, that's even better. A switch to electric public transport alongside a reduction in private car use will make our cities cleaner, quieter and healthier to live in, and the transition is already underway.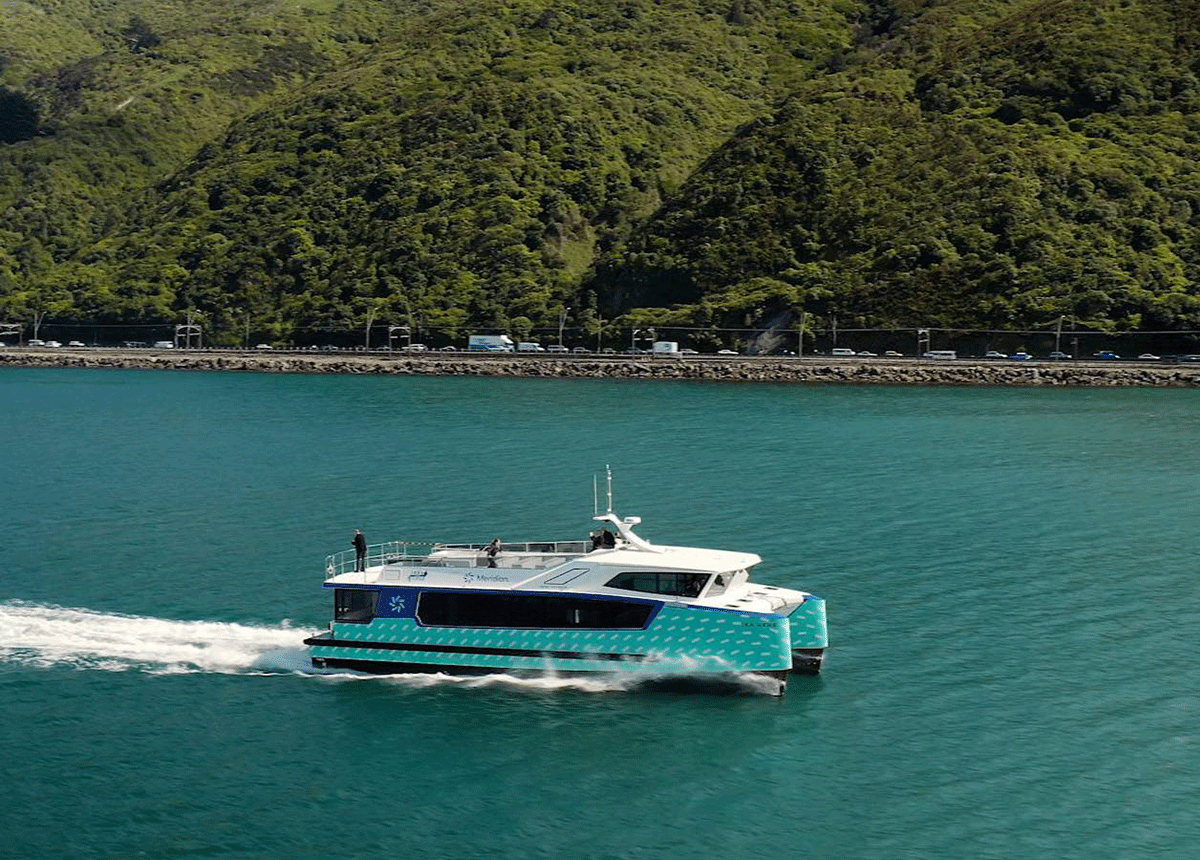 As at April 2022, there were 131 zero-emissions public transport buses in operation around the country, with at least another 210 on order. In March New Zealand's first electric ferry set sail in Wellington, and in April Auckland Transport announced plans for two new electric ferries. These initiatives are among many around the country that are contributing to New Zealand's commitment to reaching net-zero carbon emissions by 2050, and a decarbonised public transport bus fleet by 2035.
So just how far along the road to public transport electrification is New Zealand, and what's the roadmap from here? We've summarised what's happening across the country in our main centres, so read on to find out about the state of electric public transport in your region, and get on board!
37%

Transport makes up 37% of a typical household's carbon footprint

2035

The Government has a goal to decarbonise the public transport bus fleet by 2035

131

As at April 2022, 131 of NZ's 2,600 public transport buses are zero-emission, and that number is rapidly increasing.
Reducing our reliance on cars
The electrification of public transport is just one aspect of a greater vision to improve transport options for New Zealanders generally. Councils around the country have plans in place to encourage "mode shift" - to get New Zealanders cycling, walking or taking public transport more often, instead of taking the car. Mode shift is supported through infrastructure projects like building new cycleways to improve the accessibility, affordability, safety and reliability of public and active transport options.
Instead of prioritising cars, our cities are increasingly prioritising people, green spaces and clean transport modes to build communities that are connected, and resilient to climate change.
A snapshot of public transport electrification across New Zealand
Battery conversion - accelerating the shift
In order to achieve a fully decarbonised public bus fleet by 2035, the Government has another commitment to stop the introduction of new fossil-fuelled buses by 2025. Many councils, including Auckland, have already committed to phasing out diesel buses, but with the help of EECA, bus company Tranzit have gone one step further and converted a double-decker diesel bus to be 100% electric. Battery conversion is a solution that could help us transition the bus fleet to clean energy sooner.
Public transport tips
If you're not already a seasoned public transport user, jumping on board more often will be a bit of a lifestyle shift, so here are our top tips, for travelling by bus, train or ferry:
Perhaps the biggest difference between public and private transport is that with public transport you have to stick to a schedule (unless you're in Papakura, Waikato, Hastings, Tawa or Timaru where there are currently on-demand options). Check and plan your departure times in advance, and allow yourself enough time to get there, with a few minutes to spare. You can plan your journey using Waka Kotahi's journey planner, your local region's transport app, or Google/Apple Maps. Many of these apps have real-time tracking so you can see how far away your bus is.
Take advantage of half-price fares
With public transport fares half price(external link) until the end of January 2023, now is a great time to give it a try. The best way to pay if you intend to use public transport often is to get a pre-payment card (eg, "AT HOP" in Auckland, "Snapper" in Wellington and "Metrocard" in Christchurch) and swipe on and off as you enter and exit buses and train stations. Fares through these cards are discounted. If you don't have a card, make sure you have some cash on hand.
Treat your travel time as downtime
Switching from driving to public transport can be a great way to find more time to read, study, listen to podcasts or catch up on emails. Take advantage of the fact you don't have to focus on driving and use the time to unwind.
Depending on what city you're in, you may be able to take your bike on public transport with you. This opens up a range of possibilities, like cycling one way on your commute and getting a ride home, or taking public transport part of the journey and cycling to and from the station. Check with your local transport provider/council to see what's allowed.
Related stories
Article

Take a look at what energy could look like in 2050, from the way we power our homes to the way we move around.

Living Gen Less
Renewable energy

18 February 2022

Article

Reducing your car use is the biggest thing you can do at an individual level to reduce emissions, even just for one trip a week.

17 January 2022

Article

Aotearoa New Zealand is a small country, so why does it matter what we do on climate change?

Low carbon choices
Living Gen Less

11 October 2021