As much fun as travel is, it doesn't always tread lightly on the planet. The emissions that come from flights, car rides, accommodation, and souvenirs can really add up. But the good news is that there are plenty of ways you can enjoy a break without creating a lot of CO2 emissions on the way.
So if you're planning your next holiday, or even a day or night away from home, here are some low carbon holiday ideas.
Rent a low carbon car or campervan
For most of the year, a small everyday car works well. But if you're heading off on a bit of a road trip, you might need a bigger vehicle for the gear and the family, so why not rent an electric car or campervan? It's a more sustainable option for getting around, but it also comes with added benefits. The cost of charging an electric car or campervan is a lot less than the cost of fuel for a petrol or diesel alternative, plus there are no road user charges for electric vehicles (EVs) until 31 March 2024. They're also a whole lot quieter than the standard car or campervan, thanks to the electric engine.
Many New Zealand rental companies have electric vehicles as part of their fleet, including Britz, Jucy, Europcar, Go Rentals and Snap Rentals, so take your pick.
Hire bikes for the day
Wherever you are headed on your travels, chances are there's a hire company that can set you up with a bike for a half-day, full-day, or multi-day adventure. Many companies will even bring the bikes to you. Jumping on a bike - electric or pedal powered - is a fun, cost-effective, and low-carbon way to explore New Zealand, and there are so many ways to enjoy it. You could take a tour of your city by bike, head off on one of New Zealand's cycle trails, take the family out for a picnic on wheels, or do a taste trail - visiting cafes, markets, and wineries along the way.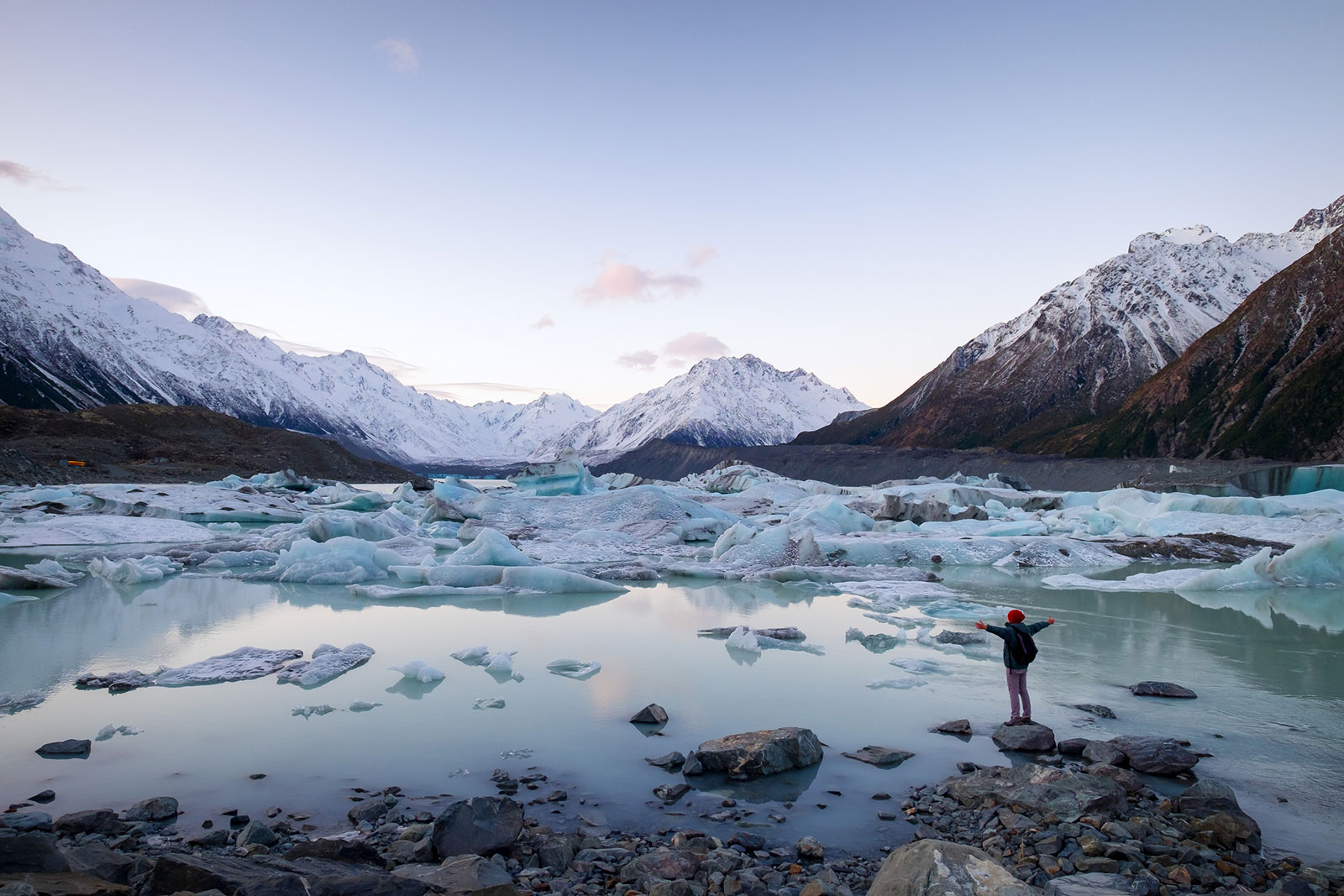 Enjoy a sustainable stay
While transport is a big factor in carbon emissions from travel, accommodation also has an impact, often in the form of energy use, water use and products.
When you're choosing a place to stay, one great thing to look out for is the accommodation's environmental accreditations or certifications, like the Toitu programme, Qualmark EnviroGold rating, or EarthCheck certification. To be awarded or certified through these programmes, the accommodation has to be committed to sustainable practices and reducing its impact.
A number of accommodation providers in New Zealand are already doing this, including Sudima Hotels in Auckland City, Christchurch City, and Kaikōura, YHA accommodation across New Zealand, Abel Tasman Lodge in Nelson, Cordis in Auckland, and The Grand Chancellor Hotels in Auckland and Wellington.
Another great option is getting out into nature and staying in a Department of Conservation (DOC) hut. DOC has over 950 huts in some of the most scenic parts of New Zealand – and they're largely off the grid. Most huts operate on a first-come, first-served basis, but some can now be booked online.
Learn more about booking and paying for DOC huts(external link)
Low-impact activities
There are so many ways to explore this country without leaving an impact. New Zealand has hundreds of treks and trails, endless bike tracks, and incredible national parks. And if you're looking for a bit of adventure, there are so many businesses you can support that are doing their bit for the environment.
A few thought starters for low-impact activities
Mt Hutt Ski Field, Canterbury – the ski field has a goal of becoming zero carbon and is working on several initiatives to help them get there, like improving energy efficiency, investing in waste management, and planting native seedlings
Wellington Zoo – New Zealand's first zoo has been certified through Toitū Envirocare for the seventh year running and offers Close Encounters experiences with animals like giraffes, red pandas and meerkats, or Behind the Scenes experiences learning about creatures like Scorpions and Millipedes
Zealandia, Wellington – the world's first fully-fenced urban ecosanctuary, Zealandia is home to over 40 rare species of native wildlife, from takahē to tuatara. They're also certified through Toitu and since 2014, have reduced their emissions by 17%.
Abel Tasman Sailing Adventures, Nelson – the sailing company is Qualmark Enviro Gold rated and certified Climate Positive through Ekos and offers daily trips, private tours and multi-day holidays.
Keep reading
Article

Driving less is likely to be one of the best ways you can reduce your carbon footprint. Check out these interesting things you didn't know about the impact of transport on climate change.

30 April 2021

Article

Global research indicates round-trip car share cars can replace up to 15 privately owned vehicles. We talk to Zilch, New Zealand's only 100% electric vehicle sharing provider.

Electric vehicles
Low emission transport

8 June 2021

Article

Will Hunter on the mission behind his EV road trip.

Low emission transport
Electric vehicles

1 March 2021