By adding electric assistance to your pedal power, an e-bike can help you go further, faster. They offer a low-carbon alternative to cars for the average commute, and for shorter journeys like running errands around town. New Zealanders are increasingly seeing the benefits — around 78,000 e-bikes were imported here in 2022 compared to 15,000 in 20171.
Commuting on an e-bike
The average one-way car trip to work is 10.7km. Most people can travel this distance in 25 minutes on an e-bike.
The battery-powered motor doesn't do all the work for you. This means you still get the health benefits of pedalling, but hills, headwinds, and carrying extra loads are so much easier. It's no sweat – so you don't have to get changed when you arrive.
The right e-bike for your commute
E-bikes come in all styles – you can get one to fit the type of riding you'll do, or convert an existing bike with a motor kit.
The Consumer electric bike buying guide details what to consider when buying an e-bike including the various styles on offer:
Commuter bikes – the do-everything bike, covering a wide variety of riding, from daily commuting to weekend rides on rail trails, to longer "fitness" rides.
City bikes – designed for urban riding, they often have low step-through frames, making them easier to mount and dismount.
Cargo bikes – with stronger frames and more carrying space, cargo bikes can carry heavy loads with ease – anything from a grocery shop to a couple of small children.
Folding bikes – useful if you regularly take your bike on a train, ferry or bus, or if you need to store your bike inside your home or office.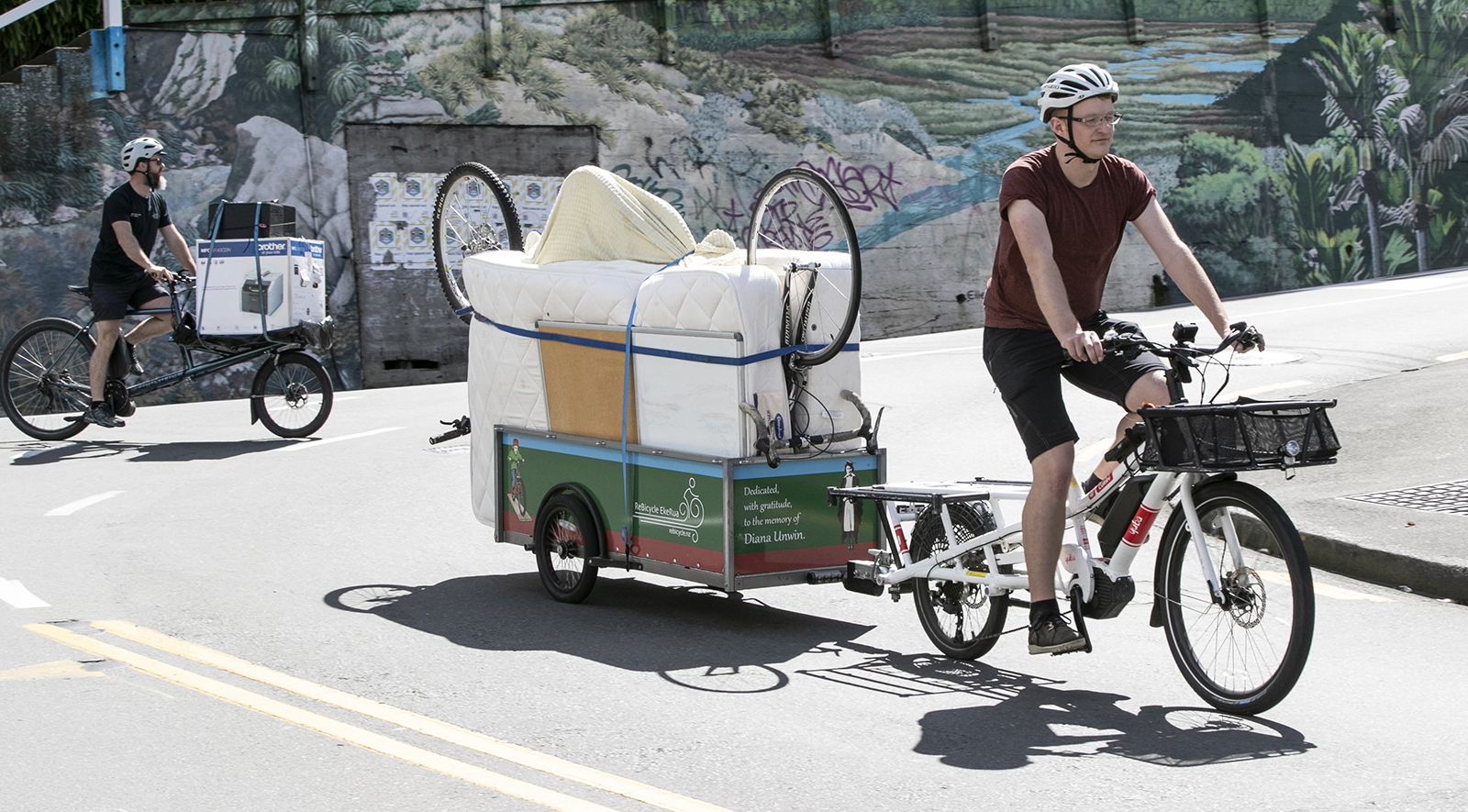 Why drive when you could ride?
With strong frames and extra carrying space, cargo bikes can carry heavy loads with ease.
Jonathan Coppard (pictured) finds that with an e-bike, he doesn't need a car to get around.
E-bikes can replace a number of journeys that people might otherwise use a car for. I think in the future, fewer families will have two cars.
Charging an e-bike
To charge, take the battery off the bike frame and plug it into a regular power socket using the supplied charger.
What's the running cost?
Fully charging a typical 400 Watt-hour (Wh) battery would cost around 13 cents and provide a boost for around 40km of travel. At this rate, cycling 20km five days a week for a year would cost less than $20.2
Have a go on an e-bike
Shared e-bike and e-scooter schemes offer a low carbon option for getting around many of New Zealand's cities.
Renting an e-bike is also a great way to try one out before committing to a purchase. People who commute by bike have the highest wellbeing of all the transport options, and you may find that it's a quicker commute. Give it a go – rent a bike for a day, or a few months, and discover the benefits for yourself.
Just search e-bike rental in your area to find a provider.
What about electric scooters?
Getting around on an electric scooter or skateboard emits less carbon than a car – but overseas research shows that people use them to replace the greenest transport options like walking or cycling, rather than car trips.
Scooters can be a great commuting option in some places, replacing a car trip and saving those emissions.
Like anything that relies on batteries or electronics, you need to weigh up whether buying one is good value for the carbon and resources it took to make.
More information
What you need to know about e-bikes.

A novice's guide to buying your first e-bike.
Related stories
Article

For Bike to Work Day 2021, we chatted to Nina Campbell, a Senior Advisor in EECA's Policy and Engagement team, about e-bikes, biking to work, and biking in the rain.

21 May 2021

Article

Tips for cyclists and drivers sharing the road.

17 February 2021

Article

When Dan Mikkelsen discovered the only way to get cargo e-bikes into Aotearoa was to buy in bulk, Bicycle Junction was born, with a mission to make the Capital a city of cyclists.

3 March 2021