After measuring the carbon footprint of your business, you will have a baseline for setting emissions reduction targets. Your climate action plan is a practical document that outlines what you will do to achieve your targets.
A smart action plan
A climate action plan – or emissions management/reduction plan – details how and when your organisation will meet its emissions reduction goals. Your plan should be SMART: specific, measurable, achievable, realistic and timebound.
Your action plan should outline the budget and other resource required to reach your targets. If you're just starting out your emissions reduction journey, it's a good idea to prioritise actions with short-term payback that can be implemented easily. These quick wins will help you build momentum and get support for other big-impact initiatives.
There's no such thing as perfect and you're going to keep evolving over time. The important thing is to get started as soon as you can, and make those first steps.
How to set emissions reduction targets
One of the first things you need to do when creating an emissions reduction plan is to set some goals and targets. These targets act as stepping stones to help your organisation reach an overarching long-term goal – such as achieving carbon neutral status.
To define your targets, you could start with your ultimate goal and work backwards, or start with actions you know you can implement, and assess what else could be possible. Either way, you should look to set out targets and actions for the long, medium and short term.
Absolute vs intensity-based targets
You can measure emissions using absolute values (the total amount emitted by your organisation), or by intensity (the amount of emissions per unit – e.g. per product unit or per employee).
Ideally, your overarching emissions target should be absolute – this means that your target doesn't grow with your business. Nonetheless, taking action to reduce the carbon 'intensity' of your products or processes is a useful lever for achieving absolute emissions reduction.
Science-based targets
Companies leading the way are setting science-based targets that ensure they are reducing emissions – throughout their value chain – significantly and quickly enough to prevent the worst effects of climate change. This means ensuring their carbon footprint remains in line with commitments made in the 2015 Paris Agreement to keep global warming to well below 2˚C above pre-industrial levels, and pursuing efforts to limit warming to 1.5°C.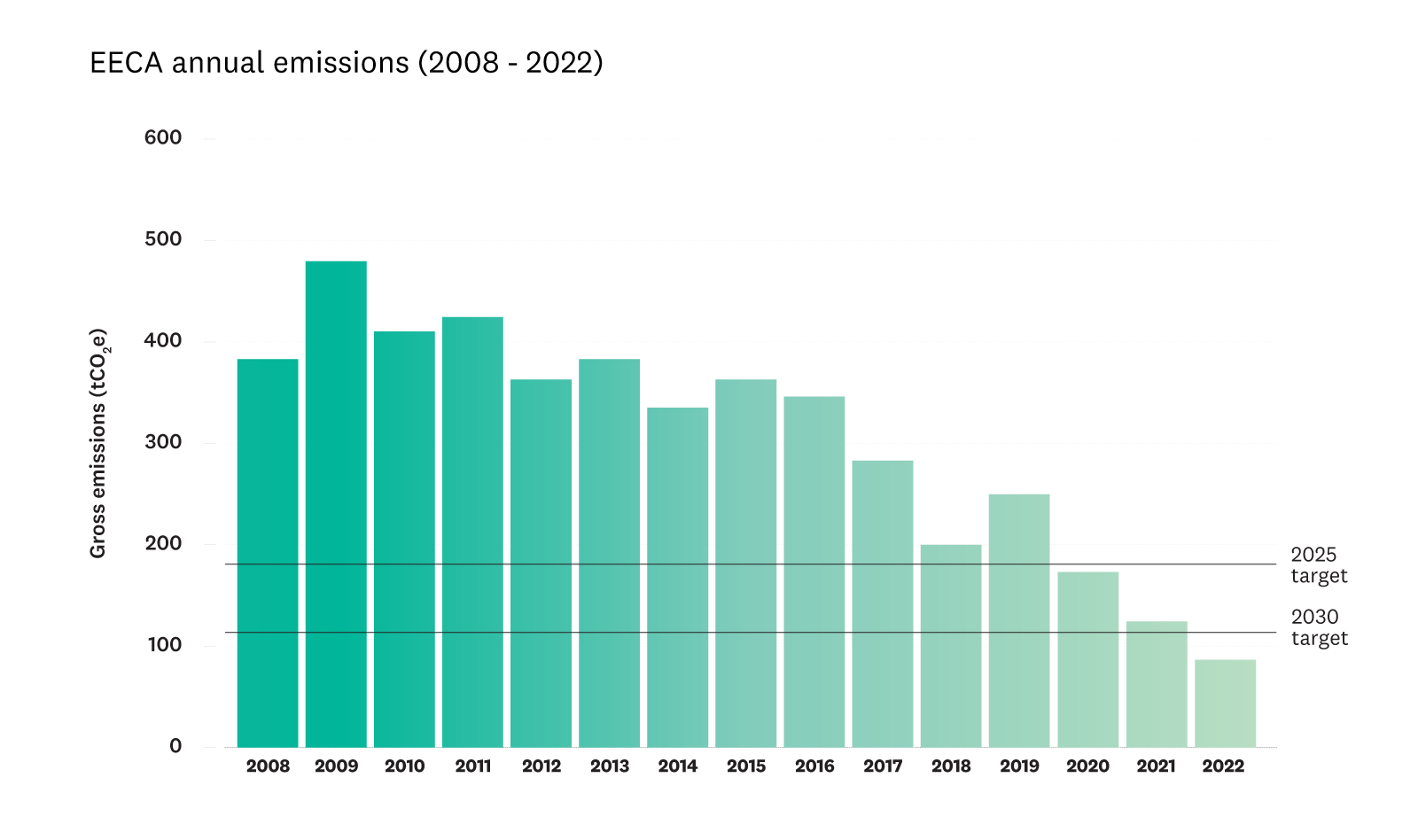 EECA, the government agency that backs Gen Less, has been measuring and lowering emissions since 2008. EECA works with Toitū to produce an annual emissions reduction plan. We have two long-term, science-based targets for absolute emission levels in 2025 and 2030. Our action plan is divided into projects that step us toward our targets and improve our data quality.
As an office-based organisation with no manufacturing or freight requirements, our largest emissions area – and therefore biggest reduction opportunity – is staff travel. We've been chipping away at these emissions over the years by encouraging staff to reduce travel, by improving teleconferencing resources, and by embracing electric vehicle (EV) car share schemes and electric rental cars.
We also aim to run our offices as efficiently as possible, promote a low-waste working environment, and look to our supply chain for emissions reduction opportunities.
Use the Climate Action Toolbox
A free and easy way to build your emissions reduction plan is to use the Climate Action Toolbox. It's designed specifically for New Zealand businesses.
Measure your emissions – Provide data on your business activities and get an estimate of your carbon emissions
Build your action plan – Learn where you can make impact and create your emissions reduction plan
Got your plan in place? Take the next step
Your climate action plan is a living document. Now that you have started your journey, it pays to keep on top of your data. Keep measuring and always be on the lookout for opportunities to increase your impact.